Mark Kingdon and team have been doing a European tour, and in their wake the major media are firing stories across the bow of Second Life, proclaiming it either dead, or highlighting how profitable it is in a down economy. But more intriguingly, Mark has been providing a few metrics and target dates for Second Life that almost feels like a road map of sorts - or at least a broad strategy, and in so doing is demonstrating that Linden Lab is doing a juggling act between enterprise and consumer adoption.
In Britain, Journalism as Impressionism
The UK Telegraph has picked up on the Eric Krangel "drying paint meme" and has declared Second Life "virtually over" in an article that is so weak and speculative it can't even be called journalism. Consider quotes such as the following:

"Research for The Daily Telegraph shows just 580,000 people logged on to the game last week."
""The gloss has gone off the whole virtual world segment," he says. "It only appeals to a very specific mindset, most people don't have the time to sit in front of their computers for hours on end playing a virtual game.""
"There are fears that as the cost of data storage rise the company is struggling to fund enough servers to run the site. Users complain that the website crashes frequently. "
OK, well….last time I checked Second Life was not a game. And I don't remember anyone complaining about the, um, website crashing frequently. Web site?
The article is picking up on a story that's a year old: brands who came to Second Life, learned from it, and realized that it wasn't a mass market platform. But to say that companies have left Second Life ignored all evidence to the contrary: they're still there, but they're using it for innovation, collaboration and training and not to set up virtual malls.
The Times Fires Back
The Times Online fires back:
"That's really the problem. Once "the man" gatecrashes the party - and governments and corporate marketers are inevitably a long way down the adoption curve - the kudos rapidly evaporates.
No matter that Linden Labs, which operates Second Life, controls a virtual currency that appears more stable than that overseen by the Bank of England - for all its insistence that the game is highly profitable, the curve inevitably peters out long before such tech businesses can fulfil their financial expectations. "

Their point is that adoption curves come and go: what's cool one week, becomes yesterday's news, as the "frontier" vanishes and the masses start to adopt.

As soon as Twitter makes the cover of Time Magazine, its days are numbered as the 'shining star' of the fickle innovation/technology set. Heck, even Ugotrade has moved on from openSim to Spimes and end-to-end Internet or whatever it is, and as Tish goes we all shall follow.

M Linden Goes to Europe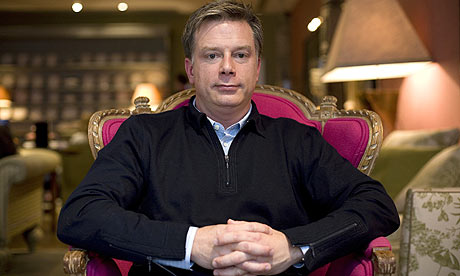 Meanwhile, M has hit the road. And one of the things that amazes me is how consistent he is. As much as I love Philip and his tangents, M sticks to the script. Well, mostly.
In an interview with the Guardian, M responds to the "Twitter is the new SL" thread, (one which was partly facilitated by the Greg Verdinos of the world, someone who frankly should kind of know better). Said Mark:
""I see what a phenomenally brilliant business model Second Life has. If you're a social media property today, your biggest challenge is figuring out how to monetise it. Because the experience and the economy are so closely linked, Second Life doesn't have the problem that other social media properties have." As a result, Linden Lab "is a company with an extraordinary balance sheet, a great and profitable revenue stream."
The article continues the message that M has been pounding home since he took the helm at Linden Lab: stability is key, the first hour is everything, and yes, we're making money.
But Mark also lets drop a few choice bits of information which help to put in context where he sees Second Life going.
6 Million Active Users
Now, I don't know if I'm the only one, but way back when I remember a lot of lag. I remember wondering what would happen if we ever hit 50,000 concurrent users: surely, the Grid would slow to a crawl and moving would be like walking through syrup.
Over the past week or so, however, Second Life has topped 90,000 concurrent users and seems well on its way to hitting the 100k mark. Kingdon agrees, but more interestingly, he's also targeting a much higher "active user" base than I had imagined:
"Engineering improvements have also led to a growth in the number of concurrent users. When Kingdon joined last May, the maximum was 60,000. "It's 86,000 now," he says, "and we're projecting that it will be 100,000 concurrent by the end of the year." He also has ambitious plans for the total number of active users - defined as those who spend more than an hour a month using the service: "I'd like to see a Second Life that, instead of 640,000 active users" - today's figure - "has 6 million active users.""
That's a pretty astonishing growth target, and the first time I've heard it. Kingdon is targeting a 10-fold growth in active users, which won't happen on the back of enterprise alone.
The Enterprise/Consumer Balancing Act
Coupled with M's tour is that the Lab has gone public with its plans to sell firewall solutions to enterprise. The solution, which will run in the 10s of thousand of dollars for a deploy, will allow companies to run Linden Lab technology completely separate from the consumer-facing virtual world.
Says Kingdon:
"Linden Lab is now aiming to build on this enthusiasm for communications: "There's been a huge amount of interest in Second Life as a collaboration and learning tool, to the extent that we've created a new product that's a behind-the-firewall product." This allows companies to run a Second Life server on their own intranet: they can still connect to the main Second Life world, but it provides them with a virtual space where confidential discussions can take place."
New Viewer by Year End
Finally, Kingdon also outlined plans for a significant overhaul of the Second Life viewer while in Paris. A few highlights of his talk:
"For 2009, it's the same story: we're working on the new user experience to make SL more accessible to more people…When we talk about the new user experience, it's comprised of a couple of elements. You saw that in December we launched a new home page for our website…We're completely reworking the entire web presence.

We're trying to create an experience that's engaging and shows the promise of Second Life so that we can grow. We're trying to add new features to the website so that it's more useful to people. Which is why we purchased the two e-commerce companies because we want to extend the goodness of the Second Life experience to the Web. And we'll be doing that more and more.

We're also reworking the viewer, which is an enormous task. But we've brought some of the best minds in interface design into Linden Lab to help us. Over the past month we've had some really important design breakthroughs….By the end of the year, we'll have our first release of the new viewer. This is a very big redesign effort, and we're putting a lot of time and money behind the viewer.

We're also going to be working on the first hour experience in world…We could triple the existing traffic flow if we could simply improve the web site, the viewer and the first hour experience."

On stability: "In the second half of last year, we cut the time lost to stability by half.And I think we'll do that again in the first half of this year."
Listen to his full talk here.